Exporting an Android Studio Project
We get asked more and more, how can our students move a project from one computer to another. They are constantly showing their project and asking how to take their project even further. But there were some projects, that were not exported in the right way, that is why they do not work when you open them on a target computer. So we decided to write a short step by step guide on how to export Android Studio project.
In the Project Tool Window you will usually have two options. According to that you will have an item with the app name or with "Project name" as a first item.
1. Project View




2. Android View


Right click on the options above to find a folder with your project.



In Windows you will have the option "Show in Explorer" (on Mac it's "Reveal in Finder"). This will select a folder within your project folder. Now you have to Right click it and select "Sent To/Compressed (zipped) folder". With that you will get a ".zip" file that you can take with you, send over mail, share… You can also use GDriver, DropBox, OneDrive or some other kind of Cloud drive).
Reducing the ZIP size
For more advanced users you can also clean up your zip file to reduce its length. First you will remove the "build" folders. The first one is in the main folder and the second one in the "app" folder. You can also remove all .iml files (these files are computer associated with relative paths and will be created on other computer automatically).
Main folder files you can delete: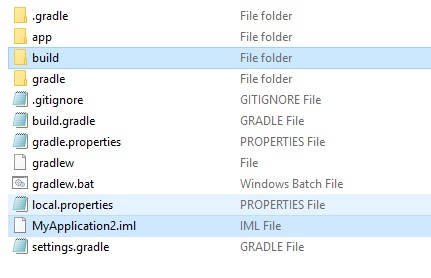 App folder you can delete: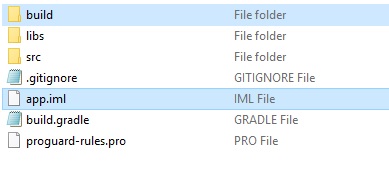 For simple projects you will reduce projects zip size quite a bit, for our example: 5.2MB -> 0.4MB